Aug 13 (The Remnants) – The crush of new COVID-19 infections in Mississippi has become so dire that the state has turned to efforts reminiscent of the earliest days of the U.S. pandemic, when a field hospital was set up in New York's Central Park and a medical ship was moored in the Hudson River.
With an overload of coronavirus patients and a shortage of healthcare workers in the state, the University of Mississippi Medical Center (UMMC) opened up a 20-bed field hospital in its parking garage on Friday morning.
It plans to open a mobile hospital tent early next week, staffed by a medical team sent by the U.S. Department of Health and Human Services.
The hospital opened a similar triage center in its parking garage in the spring of 2020.
Mississippi Governor Tate Reeves said that the federal government had denied his state's request for the same U.S. Navy hospital ship – the USNS Comfort – that docked in Manhattan in March 2020 to relieve hospitals of their COVID-19 patient burden. At the time, New York was the epicenter of the coronavirus outbreak in the United States.
"The ask for the ship was as much about the over 500 personnel that come with it as it was about the actual physical facility," Reeves said at a news conference on Friday.
He said he welcomed any of those federal medical workers to Mississippi but like many of his fellow Republicans also vowed never to force people to wear masks, which are known to be an effective defense against the spread of the coronavirus.
"I believe every individual ought to make what they believe to be the best decision for themselves," he said. Reeves told reporters that he and his family had been vaccinated but said there were "risks" associated with both getting vaccinated and remaining unvaccinated.
Low vaccination rates and the more infectious Delta variant of the coronavirus have driven a surge of COVID-19 cases across the United States, overwhelming some state medical systems.
It is also sending more children to hospital. On Friday, there were 1,871 pediatric patients hospitalized across the United States, according to CDC data, more than at any other time in the pandemic.
Arkansas, Florida, Louisiana, Mississippi, and Oregon have reported record numbers of overall COVID-19 hospitalizations this month, according to a Reuters tally, stretching intensive care units near capacity and forcing states to seek medical aid from the federal government.
Republican governors in southern states such as Florida and Texas have banned mask mandates and threatened to withhold funding from schools that impose them, however. The White House is considering reimbursing school officials who lose pay from flouting the ban.
NUMBERS WORSENING
The number of daily cases across the country has doubled in the last two weeks, according to a Reuters tally, reaching a six-month peak, while the average number of daily deaths has increased 85% in the last 14 days.
Florida, Mississippi, and Oregon logged unprecedented COVID-19 case levels in August, with Mississippi reaching its record-high daily case count of 5,023 on Friday, according to a Reuters tally and the U.S. Centers for Disease Control and Prevention.
On Friday, Oregon Governor Kate Brown said she was sending 500 National Guard members to assist overwhelmed hospitals, with 1,500 members in total available to help.
Brown said that a statewide indoor mask mandate she issued this week, along with rising fears of this fourth COVID surge, is not the news her constituents hoped to be hearing by late summer.
"The harsh and frustrating reality is that the Delta variant has changed everything," Brown said in a taped message.
Weekly cases in the state have doubled while weekly deaths have tripled in the past two weeks.
On Thursday, 1,578 COVID-19 patients were currently admitted in Mississippi's hospitals, the highest since the pandemic started last year. More than 90% of its ICU beds were occupied, according to data from HHS.
The state has struggled with a 142% jump in hospitalizations in the past two weeks, according to a Reuters analysis.
A Republican Mississippi state lawmaker announced on Thursday that he had received a vaccination after "struggling" with the decision for months and consulting two doctors.
"The infection numbers among the unvaccinated made me pull the trigger," state Senator Joel Carter Jr. said in a tweet.Reporting by Anurag Maan in Bengaluru, Julia Harte and Peter Szekely in New York, and Gabriella Borter in Washington, D.C.; Editing by Sonya Hepinstall and Daniel Wallis
Federal Assistance
The arrival of federal assistance comes as the state faces an influx of coronavirus patients, with more than 1,500 patients hospitalized with COVID-19 across the state, marking the highest number of patients receiving care since the onset of the pandemic.
The bed capacity is "extremely tight," said Dr. LouAnn Woodward, vice chancellor for health affairs and dean of the School of Medicine. "Our ICUs today are full. Our patient beds are full."
Prior to the field hospital's opening, ABC News received an inside look as federal teams worked to set up the facility Thursday afternoon.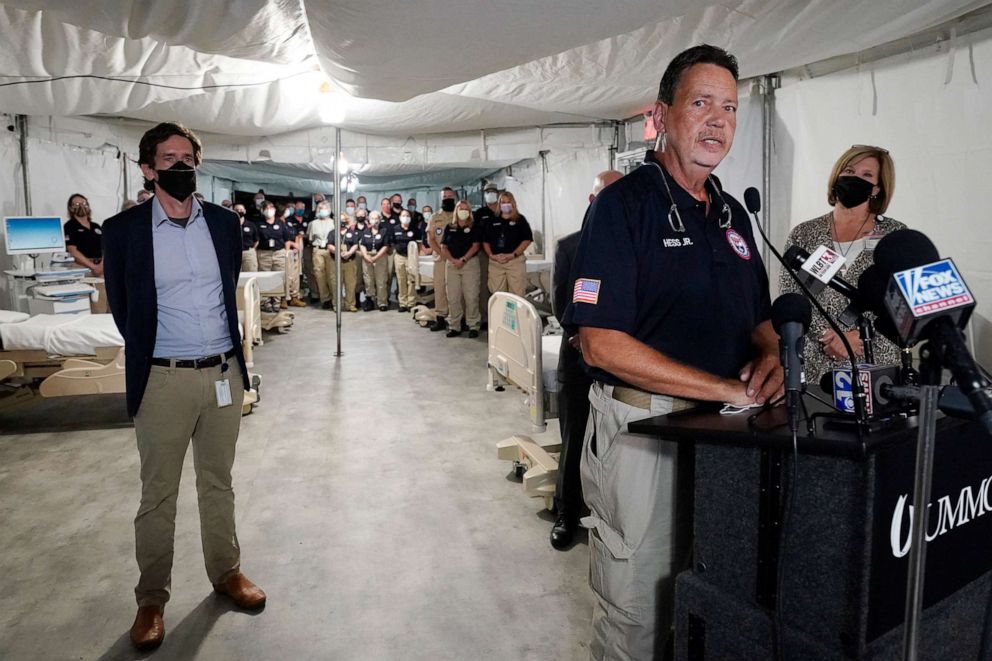 "I feel like we're beyond disaster. … It really should be a scary time for everybody because it means that we feel like we have no capacity to deal with the things that we should be able to take care of," Jones told ABC News correspondent Elwyn Lopez. "It really needs to be a wake-up call for those people."
Although the facility will give the hospital a buffer to help manage the surge, Jones said, ultimately, "it's just a Band-Aid," or a temporary fix, for the problem.
The surge facility will give the hospital system a bit of relief, officials said, in managing both COVID-19 patients and other patients, as the number of hospitalizations continues to increase.
"We do not believe that we're at a point where we've hit the peak or we're turning the corner. In fact, we think we're still on that upward climb," Woodward said.
On Thursday, Mississippi reported more than 4,400 new cases, according to State Health Officer Dr. Thomas Dobbs, almost 1,000 more than the state's previous record, he said, which will inevitably result in more hospitalizations and deaths.
"That means we're gonna have about 93 more deaths, just for today. It means we're gonna see over 300 new hospitalizations, just from the day. And that's on top of a system that is already overtaxed. Let us be very clear that the vast majority of cases, and hospitalizations, and deaths are unvaccinated," Dobbs continued.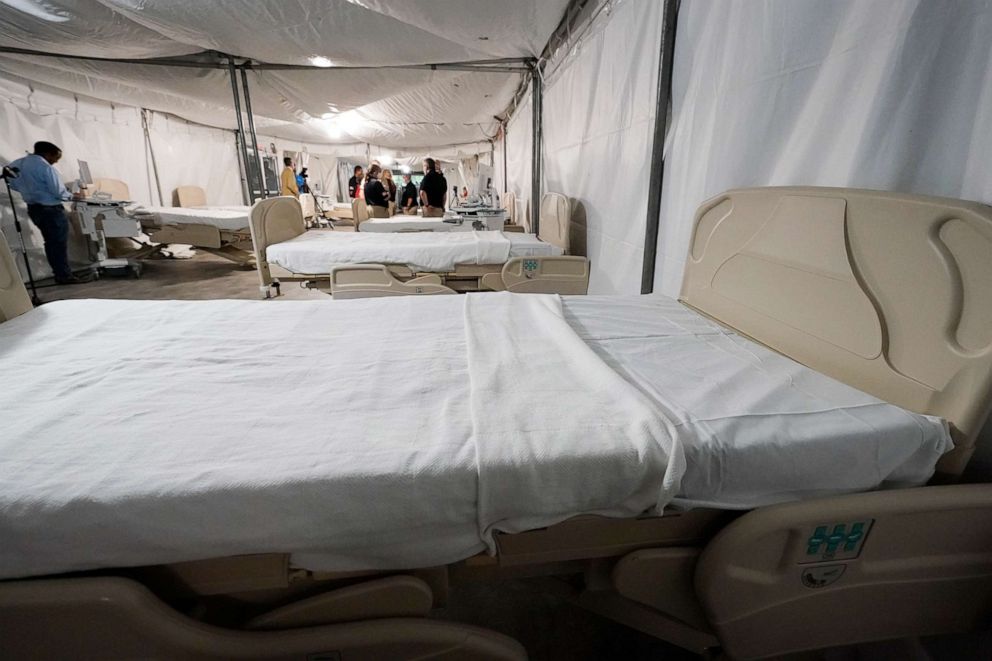 Officials reported that they continue to see a rise in "relatively healthy" younger patients, the vast majority of them unvaccinated, in need of care. Similar to the uptick seen nationally, UMMC, which is the state's only children's hospital, has seen a concerning increase in pediatric patients.
"A large proportion, much larger than we've ever seen before, proportion of children being hospitalized, or hospitalized in the ICU, and these are not chronically ill children, these are healthy children that are being hospitalized," Jones said.
Despite a recent bump in the state's vaccination rate overall, Mississippi continues to struggle with its vaccine rollout, with just 35% of residents fully vaccinated — the second-lowest inoculation rate in the country.
It is of critical importance that people get the information about vaccines from reputable sources, Dobbs stressed.
"We should not be here, y'all. This is not necessary," said Dobbs. "Too many people are getting information from wrong sources. … These Facebook conspiratorial lists are going to spread and run, and have no accountability for the people who are dying, and we're here, picking up the mess."