Activists supporting the decriminalization of abortion in Mexico march in Guadalajara, Mexico, on September 28, 2019.
The Remnants – Mexico's Supreme Court has unanimously ruled that penalizing abortion is unconstitutional, in a decision expected to set precedent for the legal status of abortion nationwide.
"Today is a historic day for the rights of all Mexican women," said Supreme Court Chief Justice Arturo Zaldivar.
The court ruled Tuesday against a law in the state of Coahuila, which threatened women who undergo abortions with up to three years prison and a fine.
The law, according to Coahuila Penal Code Article 196, allowed prosecution of both a woman seeking an abortion and the person who "causes her to have an abortion with her consent."
"I'm against stigmatizing those who make this decision [to undergo an abortion] which I believe is difficult to begin with, due to moral and social burdens. It shouldn't be burdened as well by the law. Nobody gets voluntarily pregnant thinking about getting an abortion later," said Supreme Court Justice Ana Margarita Ríos Farjat, one of only three women among the court's 11 justices.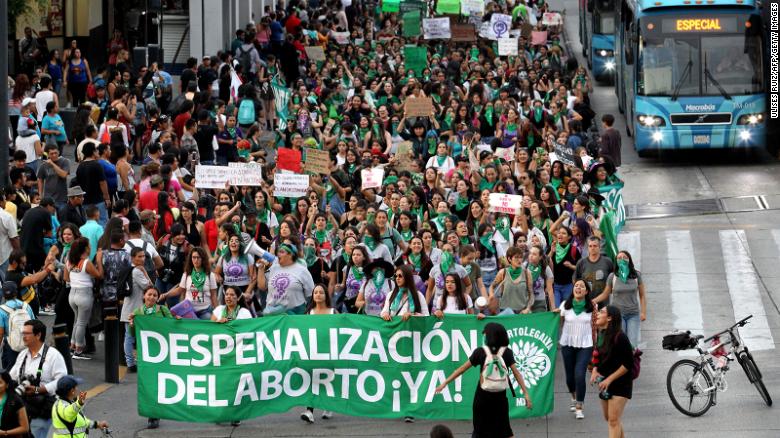 The top court's decision against such penalization is "a historic step," Justice Luis Maria Aguilar said."
Never again will a woman or a person with the capacity to carry a child be criminally prosecuted," he added. "Today the threat of imprisonment and stigma that weigh on people who freely decide to terminate their pregnancy are banished."
Elsewhere in Latin America, Argentina's Senate approved a bill to legalize abortion in December 2020. The Senate voted 38-29 to give millions of women access to legal terminations under the law supported by President Alberto Fernández.The vote comes as US states just north of the border move to restrict abortion access, most notably in Texas. Hours later Mexico has just been struck with one of the largest earthquakes on record there.
Powerful earthquake near Mexico's Acapulco
A powerful earthquake struck near the Pacific resort city of Acapulco on Tuesday night, killing at least one person, causing buildings to rock and sway in Mexico City nearly 200 miles away.
The U.S. Geological Survey said the quake had a preliminary magnitude of 7.0 and was centered about 5 miles east-southeast of Pueblo Madero in Guerrero state, about 30 miles inland from Acapulco.
Guerrero state Gov. Hector Astudillo told Milenio Television late Tuesday that one person had been killed by a falling post in the town of Coyuca de Benitez near Acapulco.
"We heard loud noise from the building, noise from the windows, things fell inside the house, the power went out," said Sergio Flores, an Acapulco resident reached by phone. "We heard leaking water, the water went out of the pool, and you heard people screaming, very nervous people."
Flores said all he could do when it started shaking was hug his wife. He saw people leaving hotels around the bay and some running into parking decks to remove their cars, fearing a collapse.
"We were all worried about some change in the sea, but so far authorities have not said anything about a tsunami alert," he said.
Astudillo said the tsunami alert center had not registered any variations in the sea level. The Pacific Tsunami Warning Center later said the threat of potential waves had passed.
The mayor of Acapulco, Adela Román, said in a statement to the television news outlet Milenio that "there is no really serious situation" so far.
"There are nervous breakdowns; people are worried because there have been aftershocks," she said, adding that there are "many gas leaks in many places" as well as some landslides and fallen walls.
Before the first death was reported, Mexican President Andrés Manuel López Obrador said via Twitter that authorities in the four states where the shaking was most severe told him there were no casualties or serious damage beyond some collapsed walls and falling rocks.
"Fortunately there is not serious damage," he said.
Mexico's National Civil Defense said it was conducting reviews in 10 states, but had not received reports of victims nor serious damage.
In Mexico City, the ground shook for nearly a minute in some parts of the capital, but the shaking was less evident in other parts. Some people evacuated their buildings briefly, but most quickly went back inside on a rainy night.
"I was at home with my mom and my dogs and the seismic alert started to sound," said Claudia Guarneros, a makeup artist. "My mother was in another room and I started to call her. The house started moving, and in the last part of the earthquake the power went out and we couldn't see anything, we just saw some things falling."
Mexico City authorities said there were no early reports of significant damage in the capital, though electricity was knocked out in some neighborhoods. Some broken windows in a downtown high rise covered the sidewalk in glass.
Arturo Hernández stood outside the relatively new apartment building he moved into three years ago. Beside it stood a taller building abandoned since the magnitude-7.1 earthquake of Sept. 19, 2017, in neighboring Puebla state that caused major damage in the capital.
Hernández heard the seismic alarm and made it outside before the ground began to shake. The abandoned building next to his continued to crack and moan for three minutes after the shaking stopped, he said. Asked if he had worried about the damaged building next door, he said, "Always, always."
Tuesday's earthquake occurred four years to the day after a magnitude-8.2 earthquake that struck off the coast of Mexico's southern state of Chiapas, largely destroying the town of Juchitan in neighboring Oaxaca state and killing dozens.